Wedding Decorations in Valrico, FL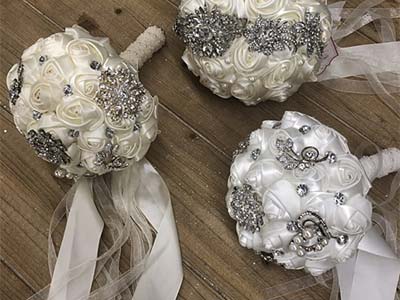 The right wedding décor is crucial as it sets the ambiance and elevates the wedding experience. It transforms venues into captivating, romantic settings, enhancing the celebration's beauty and emotional resonance.
Thoughtfully chosen decor elements, from floral arrangements to lighting, reflect the couple's style and create lasting memories for all in attendance.
Your wedding day reflects your love story, and every detail matters. At Southern Hospitality Home Décor, we understand the importance of creating a wedding atmosphere that captures your unique style while leaving a lasting impression on you and your guests.
Our Wedding Décor Collection
We offer high-quality wedding decorations in Valrico, FL, that add a personal touch, making the event uniquely yours while also providing stunning backdrops for photographs and videos that will be cherished for a lifetime. The exquisite details of wedding decor help create a magical, unforgettable day for the couple and their guests. These are some of our offerings:
Escort Cards & Place Cards - Seating arrangements are a vital part of any wedding, and our collection includes beautifully crafted escort cards and place cards to guide your guests seamlessly to their seats. From elegant calligraphy to creative designs, our cards add a touch of sophistication to your event.


Reception Table Decor & Design - Set the stage for an unforgettable reception with our reception table decor and design services. We specialize in creating stunning tablescapes that reflect your style and vision. From classic and timeless to modern and chic, our designs leave a lasting impression.


Decorative Lighting - Lighting sets the mood for your wedding, and our decorative lighting options add a touch of magic to your celebration. From romantic candlelit ambiances to dynamic LED setups, we have the lighting solutions to make your wedding shine.


Specialty Table Designs - Your sweetheart table, cake table, and guest book table deserve special attention. Our specialty table designs ensure that these focal points of your reception are as beautiful as they are meaningful.


Centerpiece Design - Centerpieces are the focal point of your reception tables. Our centerpiece designs range from classic floral arrangements to creative, personalized displays that reflect your love story and adorn your tables with beauty and charm.


Draping - Transform your ceremony or reception space with elegant draping. Draping adds an element of luxury and can help define areas, creating an intimate and captivating atmosphere.


Aisle Lining - Make your walk down the aisle even more memorable with our aisle lining options. From fresh flower petals to elegant fabric designs, we have aisle-lining choices to suit your style.


Other Wedding Decorations
Our vast and versatile wedding decor collection ensures that we have everything you need to make your dream wedding a reality. From furniture items and lighting elements to centerpiece containers and all decor elements, we leave no stone unturned in ensuring your day is perfect.
Show your appreciation to your guests with personalized wedding favors. Our collection includes many thoughtful and customizable gifts that your guests will cherish. It's the perfect way to thank you for being a part of your special day.
Contact Us for The Perfect Wedding Decorations
Your wedding day is a celebration of love, and our wedding decor collection is designed to enhance every moment. From the first step down the aisle to the final dance of the night, our services and decor elements ensure that your wedding is a masterpiece of elegance and personal style. Let us transform your vision into a reality and create memories that will last a lifetime.
For more information about our wedding decorations in Valrico, FL, please call the Southern Hospitality team at 813-717-7895 or 813-717-7784. You can email us via this Online Form, and a representative will contact you soon.