Office Furniture
Having the right office furniture can make a significant difference in the productivity and success of any business. It improves the aesthetic appeal of the workplace while promoting better posture, comfort, and organization, resulting in better employee morale and increased work efficiency.
At Southern Hospitality, we offer a comprehensive range of high-quality office furniture products to meet the diverse needs of our clients. We source our products from leading brands like Ashley Furniture, Legends, Magnussen, Tennessee Enterprise, Parker House, Sunny Designs, and more, ensuring our customers get the best value for their money.
Types of Office Furniture Products
Our selection of office furniture includes desks, chairs, file cabinets, bookshelves, and other storage solutions, all designed to provide comfort and functionality.
Our desks come in various styles, from traditional to modern, and are made from durable materials like wood, metal, and glass. Our chairs are ergonomic and adjustable and come in various designs to suit different needs and preferences. We also offer many file cabinets and bookshelves to keep your office organized and clutter-free.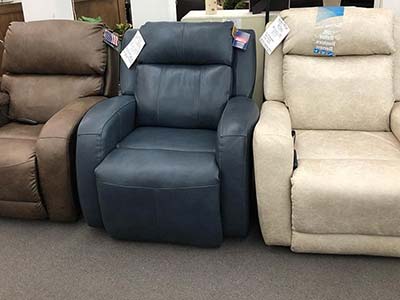 Whether you need office furniture for a small business, a home office, or a large corporation, we have the right products to meet your needs. We understand that each business has unique requirements, and that's why we offer a personalized service to help our clients find the perfect furniture for their offices.
Retail and Wholesale Office Furniture Sales
We cater to retail and wholesale customers, ensuring everyone can access high-quality office furniture at competitive prices. We work with our clients to understand their needs and budgets and provide customized solutions that meet their requirements.
We focus on providing our clients with the best service possible. Our team is always available to answer any questions and help you make informed decisions when selecting office furniture. We pride ourselves on our attention to detail, timely delivery, and exceptional customer service, ensuring our clients have a hassle-free experience.
Superior Quality Office Furniture
We are committed to providing personalized service, exceptional quality, and competitive prices, making us the go-to destination for all office furniture needs. We are conveniently located in Plant City, FL, so you can walk in, browse, and discuss your requirements with our friendly and knowledgeable sales team.
If you need more details regarding our office furniture products, please call Southern Hospitality at 813-717-7895 or 813-717-7784. You can also email us through this Contact Us form and one of our experts will call you back to discuss your requirements.