Flower Arrangements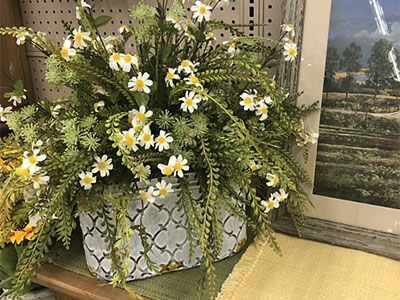 Silk flower arrangements are meticulously crafted compositions of artificial flowers that closely resemble their natural counterparts. These arrangements offer the same visual appeal as fresh flower arrangements but with the added benefits of durability and longevity. At Southern Hospitality, we take pride in creating stunning silk flower arrangements that bring beauty and elegance to any space.
Southern Hospitality is your trusted source for professionally designed silk flower arrangements in Plant City, FL. Whether you're looking to enhance the beauty of your interior spaces or create stunning displays for outdoor settings, we cater to residential and commercial clients, providing exquisite silk floral arrangements that will impress you.
Professionally Designed Floral Arrangements
Our team of talented silk floral arrangers possesses a deep understanding of design principles and floral aesthetics. They are experienced in creating arrangements that match any design theme or style our customers may desire. Whether you're seeking a classic, romantic arrangement or a contemporary, vibrant display, our skilled arrangers can bring your vision to life.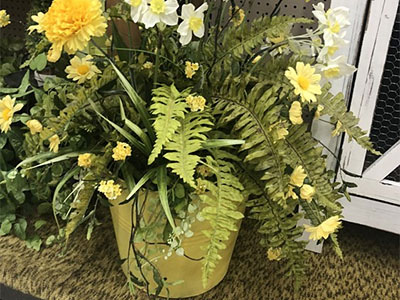 We understand that each customer has unique preferences and design requirements. That's why we offer customized silk floral arrangements tailored to your needs. Our knowledgeable team will work closely with you to understand your vision, offering expert guidance and recommendations to create a truly personalized arrangement. With an extensive selection of silk flowers in various colors and styles, we can design arrangements that perfectly complement your home decor or event theme.
Benefits of Professionally Designed Flower Arrangements
When it comes to silk flower arrangements, there are numerous benefits to having them professionally designed. Here are some key advantages:
Expert Design - Professional silk floral arrangers deeply understand design principles and aesthetics. They can create arrangements that are visually appealing, well-balanced, and harmonious. Their expertise ensures that your silk flower arrangement will be a work of art, enhancing the overall beauty of your space.


Customization - Professional designers can customize silk flower arrangements to suit your preferences and requirements. They will work closely with you to understand your vision, incorporating your desired colors, styles, and themes. With their guidance, you can achieve a personalized arrangement that perfectly complements your interior or event decor.


Access to Quality Materials - We have access to high-quality silk flowers and foliage, ensuring that your arrangement looks realistic and lifelike. They can source the finest materials and select the most appropriate flowers and greenery to create a stunning display that mimics the beauty of fresh flowers.


Attention to Detail – Our professional silk floral arrangers pay meticulous attention. They focus on every aspect of the arrangement, from the placement of individual blooms to the arrangement's overall structure. This level of detail ensures that your silk flower arrangement looks polished, cohesive, and visually captivating.


Time and Effort Savings - Designing silk flower arrangements can be time-consuming and labor-intensive. By entrusting the task to professionals, you can save valuable time and effort. They have the knowledge, skills, and tools necessary to create arrangements efficiently, allowing you to enjoy the beauty of silk flowers without the hassle.


Longevity - Our professionally designed silk flower arrangements are crafted to last. Professionals use durable materials and techniques to ensure that your arrangement retains its beauty and shape for an extended period. This longevity makes silk flower arrangements cost-effective, as you can enjoy them for years without needing regular replacements.


For more information about our silk flower supplies, please call Southern Hospitality at 813-717-7895 or 813-717-7784. You can also send us your queries through this
Online Form
, and we will call you back soon.