Silk Floral Supplies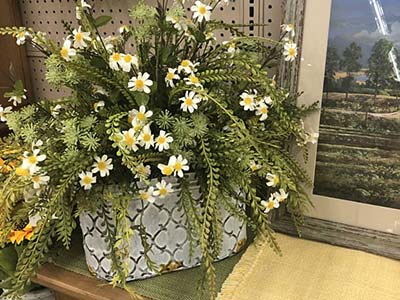 Southern Hospitality is the preferred destination for exquisite silk flower supplies in Plant City, FL. We offer an extensive range of products that cater to all your interior and exterior decorating needs. Whether you want to enhance the elegance of your home or create stunning outdoor designs, we have the expertise and inventory to bring your vision to life.
Our Products
We offer a range of silk flower and related supplies, such as:
Décor Accessories - Add beauty and sophistication to your property's interior/exterior with our wide selection of elegant and exotic decor accessories. From stylish vases and containers to charming botanical accents, our galleries are filled with options that captivate your imagination. Discover the perfect finishing touches to elevate your space and create a memorable ambiance.


Interior Furnishings - Transform your residential or commercial space with our exquisite decorative silk flowers and accessories collection. From vibrant floral arrangements to delicate blooms, our inventory will impress even the most discerning customers. Our knowledgeable team is always ready to assist you in finding the perfect pieces to complement your existing decor.


Outdoor Designs - Let our design experts help you create stunning outdoor spaces that leave a lasting impression. Whether you need vibrant floral arrangements for your garden or unique accents for your patio, we have the resources and creativity to make your vision a reality. Trust us to bring life and color to your outdoor areas with our high-quality silk flowers and design solutions.


Why Choose Us for Your Silk Flower Supplies?
There are several reasons to choose us for your silk flower supplies, such as:
Unlimited Choices - Southern Hospitality offers one of the largest and most versatile silk floral supplies in the Tampa Bay area. Step into our store and prepare to be amazed by the endless variety of colors, textures, and styles available. Whether you have a specific design in mind or need inspiration, our extensive inventory ensures you will find the perfect silk flowers to meet your unique preferences.


Experience and Expertise - With over 35 years of experience in the industry, we have established ourselves as trusted experts in silk flower supplies. Our work can be seen in countless private homes and commercial establishments throughout the region. We are well-known among the regions, leading designers, for our ability to create stunning floral arrangements for photo shoots or staging requirements. When you choose us, you can rest assured that you are working with a team with the knowledge and skill to deliver exceptional results.


Customer Satisfaction - At Southern Hospitality, we provide exceptional customer service and ensure your complete satisfaction. Our friendly and knowledgeable staff is always available to offer guidance and assistance in selecting the perfect silk flower supplies for your specific needs. We believe in building lasting relationships with our customers and take pride in being a trusted resource for all their silk floral needs.


For more information about our silk flower supplies, please call Southern Hospitality at 813-717-7895 or 813-717-7784. You can also send us your queries through this Online Form, and we will call you back soon.