Furniture Store in Plant City, FL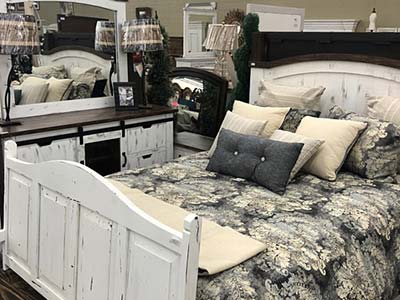 Southern Hospitality is a renowned furniture store Plant City, FL, and we have been in business for over three and half decades. Our store caters to retail and wholesale customers who come to us for our choice of goods from more than 75,000 sq. feet of merchandise.
Whether you want to redecorate your entire home, upgrade your living room, or add some special touches to your bedroom, we carry everything you need. We have established ourselves as the most preferred destination of shoppers throughout the Southeast.
Check out our extensive selection of furnishings for anything from seasonal home décor items to garden or patio furniture. You can make your home a more joyful, cozy, and lovely by visiting Southern Hospitality's furniture section. Our inventory offers everything you need to transform your house into a paradise, whether you want to spruce up the interiors of your home or take full advantage of your outdoors in the splendor of Florida's summer weather.
Amazing Furniture Variety
We encourage you to look at the variety of furniture pieces we provide from the various furniture brands and companies at our expansive showroom. Our store has thousands of products for you to browse, including chairs, sofas, cabinets, accent tables, and more. We are proud to say that we are one of the most adaptable and diverse suppliers of home furniture collections in the area.
Range of Furniture Products
We have every item you'll need at Southern Hospitality to finish your home, office interiors, or exteriors. Unique furnishings that add greater sophistication, comfort, and value can upgrade your living area or workspace. You may depend on our experience, inventory, and resources when you need furniture design components that showcase your aesthetic preferences and personality.
We provide a wide range of furniture, including living room, dining room, pottery, and bedroom pieces. Here is a summary of furniture retailers and the kinds of furnishings they offer.
Ashley Furniture - Living Room, Bedroom, Dining, Office, Occasionals
Best Chair - Upholstery
Athens - Concrete Fountains, Concrete Items like statues, etc
Hillsdale - Barstools, Dining, Metal Beds
Coast to Coast - Accent Chairs, Occasional Tables Cabinets
Craftmaster - Upholstery
CR Plastics - Outdoor Furniture
Green Gables - Bedroom
Howard Miller - Curios, Clocks
International Table Pad - Custom Table Pads
Henri - Fountains and Outdoor Décor
International Furniture Direct - Wood Furniture
Null Furniture - Occasional Tables
Legacy - Bedroom, Dining
Liberty - Bedroom, Dining
Legends - Entertainment, Office, Kids Bedroom
Loloi Rugs - Rugs
North American - Bedroom, Kids
Magnussen - Upholstery, Occasional, Office, Bedroom, Entertainment
Modus Furniture - Dining, Bedroom
Oriental Weavers - Rugs
Parker House - Entertainment Centers, Home Office, Occasional Tables
High-Quality Furniture and Décor Store
This is just a glimpse at some of the brands and products we carry. In addition, you will find products from names like Summit Design, Rhythm Clocks, United Weavers, Winners Only, Sunny Designs, Troutman, Tennessee Enterprise, and more. Our customers are spoilt for choice and keep coming back for more. All our home décor products are of high quality and the brands we carry say it all.
Would you like more details about Southern Hospitality's products? You can send us a message through this Contact Us form or call us at 813-717-7895 or 813-717-7784. We are also easily accessible by regular mail, or feel free to drop in at our impressive store.
You will find our furniture store Plant City, FL, address, location, business hours details, and all contact details on this page. Our experts are here to help you with all the information you need and can help guide your purchase decisions.